Share This
Exposed: Misbehaving with the Magnate
Book One in the Hot Bed of Scandal Duo
Seven years ago Gabrielle was the housekeeper's daughter, and Luc Duvalier, as the heir to a vast fortune, was forbidden! One hot kiss got Gaby banished, but she's returned home determined to face Luc as an equal—in every way! The heat between them is all-consuming, and they both know it is only a matter of time before they give in—despite the scandal this will cause. But this maverick magnate doesn't care—he aims to keep Gaby so busy that she never leaves again!
Reviews
Romantic Times 4.5 Stars Top Pick! When Gabrielle Alexander receives word that her mother is ill, she returns to France, to the home she was banished from seven years earlier. Gabrielle was the housekeeper's daughter, and Luc Duvalier, the heir to a fortune, was forbidden. After one hot kiss, Gabrielle was sent away to Australia. When she meets Luc again, she plans to show him that she's now more than his equal. Neither expects the heat to be hotter than ever, and it's just a matter of time until it all explodes. This is a dynamite story of a once-forbidden relationship featuring two terrific characters who have to deal with the past before they can finally be together.
Sandra Garcia Myers, RT
Excerpt
Somewhere in the story…
Luc caught up with Gabrielle towards the bottom of the stairs leading down into the formal knot garden. 'Mind if I join you?' he asked.
'No.' She glanced at him warily.
'You left your bag on the table,' he said next. 'I didn't know if you meant to or not. I left it there.'
She hadn't meant to. But there was no going back for it now. 'I'll get it later.' When Josien had gone. What had Simone suggested by way of civilised discussion again? Gabrielle couldn't remember. Her brain was too busy trying to deny the raw sexual appeal of the man striding alongside her.
Yesterday Luc had been wearing working attire—a suit befitting the head of the House of Duvalier. Today his clothes ran to casual. A blue shirt with a boldly embossed stripe running through it – it was shaped to accentuate the breadth of his shoulders and had tiny tortoiseshell buttons all the way down the front. The size of those buttons were more in keeping with the size of a woman's fingers than a man's and made Gabrielle's fingers dance with wanting to free them from their buttonholes. She ordered those wayward fingers still and dragged her gaze away from his chest and those buttons and concentrated on the rest of him.
Big mistake.
Luc's trousers and work roughened boots were more suited to the fields than to the boardroom but they didn't look out of place on him, not one little bit. All they did was give his inherent sexuality a dangerously earthy edge.
Luc could do mindless earthy abandon just as easily as Gabrielle could. She knew it for a fact.
'How do you like living in Australia?' he asked her as they started walking through the formal French garden with its neatly clipped hedges. It was a question any acquaintance might ask her, new or old. A civilised question. A question that took her thoughts in a different direction altogether to the place they'd been headed.
Thank goodness.
'I like it fine,' she said and summoned a smile. 'Australia's a beautiful country. There's opportunity there. Less of a class-system.' Her smile turned rueful. 'I wasn't the housekeeper's daughter once I reached Australia, I was the sophisticated French girl with the Australian father and a brother who'd just bought a beat up old winery and renamed it Angels Landing. I could be whoever and whatever I wanted to be. I could be me. It was very liberating.'
'I can imagine,' murmured Luc with a swift white smile. 'Did you run wild?'
'Oddly enough, no.' Gabrielle swung her arm as they walked, setting her sandals to swinging like a lazy pendulum. 'Once there was nothing to rebel against I stopped rebelling.'
'I bet Rafe was relieved.'
'Maybe,' said Gabrielle. 'And maybe he always knew that as soon as I'd broken free of this place I would find my way.'
'You sound as if you hated it here,' said Luc.
'I didn't.' Gabrielle shook her head and looked around her at the chateau and the grounds surrounding it. 'I don't. How can you hate something so beautiful? No, it was my place in the grand scheme of things here that I hated. It wasn't that I necessarily wanted to own Caverness, you understand.' She didn't want Luc to think that. 'I just didn't want Caverness to own me.'
'I understand.' Luc's eyes had darkened. 'How do you feel about coming back here?'
'Conflicted,' said Gabrielle with brutal honesty. 'Part of me feels like I've come home. The rest of me's desperate to get away. I know there's no place for me here, Luc. Not in Josien's mind and probably not in yours or Simone's either although you're both being very kind.'
'You're wrong,' said Luc. 'There's room for you here, Gabrielle. Always.'
'We'll see.'
'Gabrielle, if ever you need my help with anything, ask,' Luc said carefully. 'You'll get it.'
'Why?'
'You were driven from your home because of me.'
'The way I remember it,' said Gabrielle with a swift sideways glance for his stern profile, 'there were two of us in that grotto that night. Besides, I may have lost one home but I soon found another and found myself in the process. I know I fought against leaving here initially, Luc.' Gabrielle winced at the memory of the scene she'd caused – the pleading and the tears, the utter desolation that had enveloped her and that everyone, Luc included, had been witness to. 'But it helped me to grow up.' Grow up strong.
'And your estrangement from your mother?'
'Would probably have happened anyway,' said Gabrielle with a shrug. 'Lose the guilt, Luc. It doesn't suit you.'
Luc's eyes flashed fire. 'Careful, Gabrielle.'
'Much better,' she murmured. 'All that buttoned down fire. That's very you.'
All that buttoned down fire came roaring to the surface as Luc caught her by the arm and drew her into the secluded shadow of the chateau walls. He stood there, glaring at her in silence as he let the awareness between them build. And build. 'Why do you do that?' he said at last. 'You push and you push and then you push me some more. I warn you, but you never seem to listen.'
'I'm listening now,' she said through suddenly dry lips and took a step backwards only to come up against solid stone wall. 'I'm listening very intently.'
'Good, because I'm choosing my words carefully. Do you remember how it was when I lost control with you, Gabrielle? Do you? Is that what you want from me?'
'No.'
Yes, said a little voice that would not be silenced.
'No,' she said more firmly. 'I want us to be civil with one another. That's all.'
'Civil,' he said mirthlessly. 'Around you?'
'Yes.'
'God help me.'
'You could at least try,' she said darkly. 'You can't even greet me properly.'
'Have you ever stopped to wonder why?' he grated.
She hadn't. 'All she'd seen was the lack of what he bestowed on others so naturally.
'Just remember, this was your idea, not mine,' he muttered, his voice a dark delicious rumble as he set his palms to the stone wall either side of her and bent his head to hers.
Author Notes
This story is the first in a duo that follows two sets of siblings who were childhood friends growing up in a vineyard in France. Puberty ensued, complications arose and we catch up with everyone several years later.
The gorgeous vineyard setting of Caverness was inspired by a vineyard my sister and I visited in the Netherlands. We caught the tail end of a tour of the caves that doubled as wine cellars and decided that it was the perfect setting for a romance.
Up until this story most of the mothers in my stories were dead so I—in my innocent bliss—figured a live yet evil mother for an improvement. Right up until my own mother started giving me the side-eye. Cue my hasty disclaimer that this story is in no way a reflection of my wonderful mother—or any other mother I know. It's a side effect of writing short contemporary romance with limited room to develop secondary characters. Can't explore them? Kill 'em.
The story was a Romantic Times Top Pick, a Romantic Times nominee for best Harlequin Presents of 2010, and was a finalist in the 2009 Australian Romance Readers Association's award for Favourite Short Category Romance.
Other Editions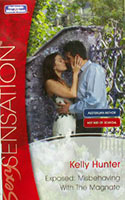 Exposed: Misbehaving With the Magnate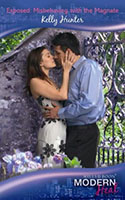 Exposed: Misbehaving With the Magnate
Exposed: Misbehaving With the Magnate