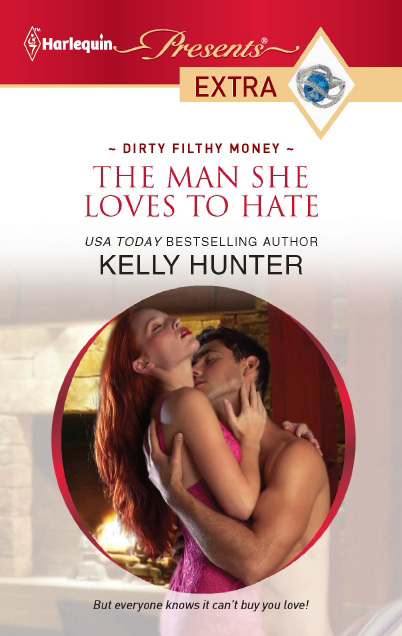 Share This
The Man She Loves to Hate
Three reasons to keep away from Cole Rees…
1. My mum had a scorching affair with his dad – just think how awkward that 'meet the family' would be…
2. His arrogance drives me mad – he might be gorgeous, but I hate how he knows it!
3. Every time he touches me I go up in flames…and it's utterly terrifying. Come on, a fling with the man I love to hate?
Like that would ever work out…
Reviews
Ostracized since childhood for the sins of her mother, graphic artist Jolie Tanner hopes a disguise will keep childhood crush Cole Rees from recognizing her as they share the last mountain gondola of the day. Time hasn't diminished Cole's animosity toward Jolie, the daughter of his father's mistress. But when a winter storm traps them together, it's the sparks between them that help them survive. As an intimate friendship develops between Jolie and Cole, they also face challenges that threaten their future happiness. Hunter charms readers with a dramatic plot, scintillating dialogue and likable characters.
Sabrina Madan, RT
Mills and Boon conventions aside—yes, he's a tycoon, she's totally hot and they don't use a condom—the heroine and hero of this book are rarely predictable. I only wish it could have been longer. Who might enjoy it: Readers who expect their heroes and heroines to act like adults. Who might not enjoy it: Sticklers for safe sex.
Kat, Book Thingo
Excerpt
Somewhere in the story…
'You ready to send that gondola downhill yet?' asked Jolie.
'Just waiting on another passenger.'
'Who?' The ski field had been closed since lunchtime on account of the unpredictable weather. Jolie figured that all the other employees and skiers on the mountain would have headed downhill hours ago. All except for Hare, who lived on the mountain in a cabin half a kilometre away from the main complex.
'Cole.'
'Cole who?' But Hare wasn't answering. Nor was he looking her in the eye. Jolie's stomach began to churn and churn hard. 'Cole Rees is here on the mountain?'
'Came up a couple of hours ago. He's up at the lookout.'
'Doing what?'
Hare shrugged.
'But… how can he be here?' She'd planned her foray to the cabin for a time no member of the Rees family would be anywhere near here. 'Why isn't he at his father's funeral?'
'Didn't ask. The man wasn't looking for conversation, Jolie. He was looking for space.'
And now he'd be sharing space with her all the way back down the mountain. Just Cole Rees and Jolie Tanner and a box full of evidence of her mother's twelve-year affair with his father. 'Great,' she muttered. 'That's just great. Any chance of rolling another gondola around so that Cole can ride down on his own?' The ski lift consisted of several eight-berth sky gondolas and was a twelve-minute ride, top to bottom.
'None,' said Hare. 'Blizzard warning just came in. You're lucky I'm prepared to run this one.' Hare looked out the triple glazed window of the control hut and nodded once. 'Time to go, girlie. There's Cole.'
Jolie followed Hare's gaze, and there he was. Cole Rees, large as life. Striding down the lookout path towards the gondola, his raven hair windblown and his pretty face set against the worsening weather. A man so reckless, unpredictable and downright sexy he made Jolie's insides clench. And that was before she factored in his hatred of all things Tanner. 'Great,' she said grimly. 'That's just great.'
Jolie grabbed a ratty sheepskin hat with earflaps from the assortment of old lost-and-found attire hanging on the back wall of the tower and jammed it on top of her beanie. The hat wouldn't be missed, and besides, she'd give it back. She added a thick black scarf and lost-and-found ski goggles to the ensemble while Hare looked on, deadpan.
'I take it you're keeping my coat,' he said.
'I'll give it back tomorrow.' Not for the first time today, Jolie gave thanks that she'd worn her oldest ski gear. Unisex attire purchased years ago during a mercifully brief phase in which she'd attempted to downplay her looks and her femininity. Her ski boots were black, chunky, over-worn, and all about getting the job done. Nothing feminine about them either.
'Hair,' offered Hare.
'Oh.' She took off the hat and goggles, twisted her auburn tresses round and round and then up beneath the beanie, and then jammed the hat back on her head. Her red hair was a legacy from her mother and truly distinctive. Men were fascinated by it. Hairdressers wanted to bottle it. Jolie had no complaints of it, truth be told, but right now she wanted it hidden. She pulled the hat's earflaps down. 'Better?'
'You look like ET's Alaskan cousin.'
'Perfect,' she said, snapping the goggles down over her eyes.
'Or you could be yourself,' murmured Hare.
'No, I really couldn't. Meet JT. J for Josh. He works for you.'
Author Notes
This story was a big hit with readers. It's one of my bestsellers and if I could figure out why, I'd write more of them. There's plenty of angst, danger, and something of a Capulets and Montagues vibe. There's backstory aplenty, secondary characters behaving badly, gratuitous use of New Zealand's gorgeous Queenstown as the setting and I added an avalanche. There's shameless use of the "stuck together in isolation" trope and "lucky to be alive" sex. There's a reason such plot devices are used over and over again in contemporary category romance.
Putting a fresh spin on them—that's the hard part.
This story was a finalist in the 2012 Romance Writers of Australia's RUBY Award for Short Sexy Romance.
Other Editions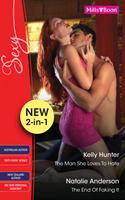 The Man She Loves To Hate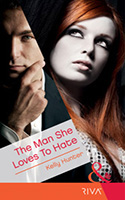 The Man She Loves To Hate