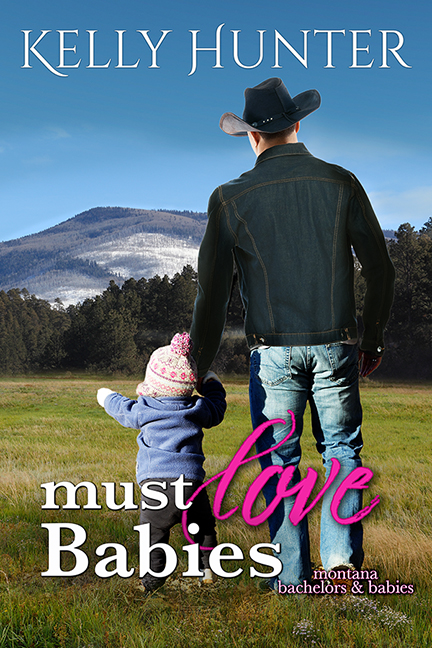 Share This
Must Love Babies
Book One in the Casey Brothers Montana Bachelors and Babies series
Thank you, ARRA, for nominating this story for Favourite Short/Category romance of 2015!
Your date with ski champ Jett Casey is an either/or deal. He'll take you off-piste for the ultimate Montana ski adventure or he'll put his handyman skills at your disposal for a week. Which one would you choose?
Single mom Mardie Griffin has a run-down old house in need of fixing and a memory of Jett Casey as her savior in a time of great need. So when her friends acquire Jett's services at a bachelor auction and send him to fix up her house, she sets aside her mistrust of men and lets him in.
Elite athlete Jett Casey has the world at his feet and no desire for stability. But there's one woman he's never forgotten and if he can help make her safe this time, maybe she'll stop haunting him.
No strings, no sex, no commitment. Just fix things. Surely it can't be that difficult…
Reviews
Fun is essential! The review title, a quote from Jett sums it up – "Flirting is fun. And fun is essential" This book has everything – well-developed hero and heroine, fun, humor, sweet, but also lots of chemistry. I really liked that Jett and Mardie were both direct and up front about their feelings and what they wanted from the relationship right from the beginning – a refreshing change from the common "angst and misunderstanding" theme in so many romance books. This book was hard to put down and I'll be looking for more from Kelly Hunter.
Mel T, Kobo
Recommended Read. I trust these two and their feelings for each other. There's enough time spent working out the long term details and enough eyes on the two of them, making sure each is right and ready for this. The hair bows war is funny too. I definitely need to read more of your books. What am I waiting for? B+
Jayne, Dear Author
Excerpt
Chapter One
Mardie Griffin smoothed her apron and tried not to think about the five hours left to go before her shift ended. It was six-thirty in the evening, give or take, and she'd been here since nine this morning, helping to ready Grey's Saloon for Marietta's first ever bachelor auction. All the money raised would go towards helping Molly Dekker pay for her ten-year-old son's ongoing medical expenses, given that young Josh had taken a fall up on Copper Mountain a few months ago and ended up in a wheelchair.
Mix one slightly disreputable bar with a fundraiser for a young boy's healthcare needs, throw in half-a-dozen or so of the town's most eligible bachelors—in various stages of denial that they'd ever said yes to being auctioned off like prize bulls—and it wasn't exactly a hardship to be here. Mardie wanted to work this evening, she wanted to feel the room pulsing with life and laughter and the room did not disappoint.
There was just one problem.
Jett Casey was here, ready and willing to go to auction, bachelor number one on the menu, and Mardie could barely look at him without feeling a mad mix of emotions that started with longing and ended with gut deep shame and fear. She'd had a high school crush on him for years—madly in thrall to his daredevil fearlessness and more than a little enamored by his face and the body attached to it. She'd been one year younger than him, and she'd watched him from afar and wanted what she didn't have a hope of obtaining. On rare occasion, he'd looked back at her with just enough something in his eyes to feed her dreams.
If only things had stayed that simple, she could have greeted him with a smile and been generally pleased to see him here this evening. She'd followed his career and watched him ski for gold with her heart in her throat, just like everyone else in Marietta. He was one of theirs and, when he competed, the people here rode on his shoulders all the way. She could have been a regular, everyday Jett Casey fan.
If one dark, dank, fear-infested night in Bozeman, two years ago, hadn't changed everything.
Now all she wanted was for him to go far, far away and take his knowledge of her with him so that her filthy little secret could stay hers and hers alone.
Mardie snuck a glance at Reese Kendrick, Grey's bar manager and wondered whether she could plead sudden illness and take the rest of the night off. Reese would let her, gunshot glare notwithstanding. But then she'd be leaving him one waitress down on a busy Saturday night and then she'd be low on hours for the week and then short on pay and scraping to make her mortgage payment come the end of the month.
No, far more fiscally responsible for to stay and work through the evening, keep her head down, her smile in place, and stay the hell out of Jett's way.
He was first bachelor on the block. Maybe he'd leave soon after they sold him.
Athletes needed their sleep, didn't they?
Not that the Jett she remembered had ever been one to say no to a party.
Reese was her go-to guy behind the bar tonight, and she rattled off her orders as she stacked empties into a waiting dishwasher tray.
"How slammed are you?" he wanted to know.
"Getting there."
"I want you to take booths two, three, and four off Rosie. Ryan wants another set of hands in the kitchen and she's it."
"Send me to the kitchen," she offered instantly.
"Do I look insane?"
He didn't need to explain. As a permanent employee who knew everything there was to know about running the floor at Grey's, she was of far more use to them out here than in the kitchen.
Although … what if they had more help out here?
"Sawyer and Ella Grace are here," she told Reese. "Want me to ask Sawyer if he'll give us a hand?" Sawyer had bartended for them a year ago; back when they'd all thought he was a misfit Aussie drifter rather than heir to one of the world's largest brewing companies.
"Tell him to sit back and bid big," Reese rumbled. "We don't need him."
"Speak for yourself."
Reese cut her a glance, even as he kept on filling glasses. "You look tired and underfed."
"No, I look efficient, hardworking, and ever so slightly winsome. It's a good look for me this evening." No need to tell him that Claire had been teething or that Mardie was tempted these days to cough up a lung in exchange for a solid eight hours of sleep. "All part of my winning plan for bigger tips." Not that her take-home this evening would be anything to brag about, given that all the wait staff had agreed to donate half their tips to the fundraiser.
Hitching her smile a little higher, Mardie slid a freshly loaded tray of drinks onto her hand and sashayed back out onto the floor. Tiredness came with single motherhood, hard work, and a monster home loan. Tiredness came with the life she'd chosen to live, and she wouldn't trade any of it.
She weaved her way through the crowd to the table where Sawyer, Ella Grace, and four others had squeezed into a booth. Her smile grew more genuine as she began to set drinks down in front of people. Ella Grace Emerson had been three years behind her at school but these days Mardie counted her as one of those true friends who stuck around, even when the going got ugly.
"You look tired," Ella offered, her blue eyes assessing.
"No, I look fit, healthy, and flush with the joys of hard work and home ownership. I have a new hot water system," she finished smugly. Last time they'd spoken, Mardie's hot water tank had just died and Ella had been there to witness both the panic and the cursing. "Paul Harris hooked it up for me yesterday. And before you ask, I also had him install a heating system in Claire's room."
"What about your room?"
"He half-fixed the one in mine. Said it'd go for weeks."
"'Cause that's useful, a half-fixed heater in the middle of winter."
"I can always sleep in Claire's room. Patience, my friend. Patience and tips. Are you bidding?"
"I am. On behalf of Emerson's Holdings, I am here to bid big." Ella was a cattle dynasty princess, albeit one who worked just as hard as any of her father's ranch hands. But spend money she could, and regularly did. "Which one's the pick?"
"Depends." Mardie spared a glance for Marietta's finest bachelors, currently ranging between the end of the bar and the stairs that led to an off limits storage area. Tonight that storage area was doing double duty as a bachelor's dressing and resting room. Half the bachelors were currently leaning over the railing looking cocky, aloof, amused, or just plain black-eyed grim. It was all very burlesque. Only newcomer to town, bad girl and former stripper, Lily Taylor, could have come up with an idea like this and made it stick. Lily could persuade most anyone to do anything. "Have you seen the bachelor menu for the evening?" Mardie gestured towards the flyer on the table. "What do you need?"
"Not a damn thing." Ella slid Sawyer a thoroughly contented smile, and so she should, because Sawyer was one of the good ones. "Hence my need for a recommendation. I need your help here. Which one's your pick?"
"Why do I have to choose? He's your bachelor."
"What about Casey? Remember him from school?"
"I'd say no, but you'd know I was lying." Sawyer looked puzzled, and Mardie cut him a break and offered up a thumbnail sketch of Jett Casey as a teenager. "Heartthrob, daredevil, impossible dream—every school has one. He was one year ahead of me, and I'm not sure how Ella even scrapes into remembering him."
Ella grinned. "My first high school year was his last. It was still memorable."
Author Notes
This was a hard story for me to write, mainly because the heroine had experienced domestic violence in her past. I don't know how many times I reworked Mardie's thoughts about that time in her life—exploring different nuances and responses—but it was a lot. I don't know how many times I reworked her front story character in an effort to make her less of a victim and more in control of her world now. I'm proud of this one. It's a favourite of mine.
Because I'd given Mardie such a harsh backstory I then gave her the most perfect and supportive man I could imagine. Because she deserved one.
There are five other stories in the original series this story belonged to, written by some of my favourite authors. Again we revisit small town Marietta, Montana for the setting. Working with those other authors was a collaborative dream run. Inspiring, satisfying, lots of laughs and plenty of fun.
Most of those stories have since been spun out into single author series. Mine have, and the two more Kelly Hunter books now connected to this story are:
Must Love Cowboys
Must Love Babies
But I've left the older series info below.
The books in the series are:
Book 1: Bound To The Bachelor by Sarah Mayberry
Book 2: Bachelor At Her Bidding by Kate Hardy
Book 3: The Bachelor's Baby by Dani Collins
Book 4: What A Bachelor Needs by Kelly Hunter
Book 5: In Bed With The Bachelor by Megan Crane
Book 6: One Night With Her Bachelor by Kat Latham
Other Editions
What a Bachelor Needs
Part of Tule's Bachelor Auction series of old.