Share This
Cracking the Dating Code
Book Two in the West Family Series – Poppy
Poppy West, genius and legendary code-cracker, needs a hideaway. Her borrowed desert island seems perfect—until she discovers the owner is the most dangerously sexy man she has ever laid eyes on… Now she's out of her depth!
Sebastian Reyne never intended to teach Poppy all the delightful, enticing mysteries of flirtation. Poppy needs a nice man, not a rogue. A patient man, not one who can't be controlled. But her clueless attempts at cracking the dating code bring out the rescuer in him, the teacher in him, even the gentleman in him. For a while.
Until Poppy's skills start to exceed his own…
Reviews
Determined to track down her missing brother, Poppy West takes advantage of a co-worker's offer to use the extensive computer system on his brother's private island. Sebastian Reyne is racked with guilt after an accident involving his company, but his tempting visitor is a welcome distraction. He immediately sees beyond Poppy's mousy exterior and finds the innocent woman beneath captivating. Poppy's request for lessons in flirtation quickly turn to lessons in seduction, but can an introverted, risk-averse Poppy adapt to Seb's world in the long term? Charming characters and witty dialogue will appeal to readers in the mood for a languorous story.
Sabrina Madan, RT
Great Series. So happy I found this writer. Have really enjoyed the West family series.
K, Amazon
Excerpt
Chapter One
They found him in the loft.
Sprawled out, face down on one of the cots as if dead to the world.
Mal sighed. Poppy stared.
And it wasn't just because he had no shirt on.
Sebastian Reyne was not a small man.
His feet dangled over the edge of the bed, and his shoulders seemed almost too wide for it. His jeans clung lovingly to superbly muscled thighs and his butt was taut and round and altogether perfect. And then there was his back.
Sun bronzed and magnificently proportioned to fit the rest of him, it was a study in the play of skin over musculature and the hills and valleys that came of it. Painters and sculptors would love Sebastian Reyne's back. They'd commit it to memory and drive themselves insane trying to capture every last nuance of its power and beauty.
It seemed only wise that Poppy too should commit such a study in masculine perfection to memory.
Just in case she ever decided to take up sculpting or painting.
Or something.
His chest moved and from what little Poppy could see of his face beneath all that shaggy black hair his colour seemed good.
An almost empty scotch bottle lay on its side beside the bed.
Not dead.
Just dead drunk.
'Miss West, meet your host,' said comedian Mal as he reached down and gave the sleeping giant a nudge. 'Seb.'
Seb groaned. Muttered something about Mal going away and the words he used were not from the Book of Manners.
Nothing Poppy hadn't heard before.
'Oy! Seb!' bellowed Mal, and shoved him in the shoulder. 'Package for you.'
'Leave it on the floor,' murmured Seb and his voice rippled over her, darkly delicious and heavy with sleep.
'Yeah, about that,' said Mal, and turned to Poppy. 'Comprehension could take a few minutes. Maybe you should wait in the office.'
'It's okay,' said Poppy mildly. 'I have brothers.'
'Brothers who go on benders?'
'Brothers who do what they want,' she countered quietly, and put her hands to her knees and bent low so as to see Seb Reyne's face. It was quite a face, stubble aside. It put her in mind of fallen angels and very bad boys.
Wouldn't hurt to commit his face to memory too.
'Mr Reyne? I'm Ophelia West. We've spoken on the phone. I'm Tomas's business partner. I'm here to do some work.'
Long dark lashes lifted a millimetre or two before closing again, giving Poppy a brief glimpse of forest green.
'Am I dead?' he murmured.
'Not quite.'
'You sure?'
'I'm sure.' Poppy straightened and turned to Mal. 'I'm pretty sure he's going to say "Welcome to the island" next.'
Another curse. More of a whimper.
'Give me five minutes with him,' said Mal, and hauled a protesting Seb upright and headed for the door, and then the cove, and then the ocean, dragging the altogether larger Seb along with him.
Poppy stayed on the pier and watched as the pair headed across the sand and into the water until they were both waist deep in it, at which point Commander Mal unceremoniously let the other man go.
Doubtless that would've been her older brother's solution too.
Poppy leaned against the railing as Mal dunked Seb again, maybe to wash his mouth out this time, but eventually, Mal waded back towards the beach and Seb waded into deeper water, scrubbing at his hair and disappearing beneath the surface with the sleekness of a seal.
Definitely not afraid of open water, that one.
Author Notes
I wrote this story straight after writing the first story, and behind the scenes I continued to be fascinated by online security and computer coding and exploring the limits people imposed on themselves when charting the largely borderless world of cyber land.
I gave Poppy similar computing skills to her younger brother Damon but made her a white hat—legitimately employed to secure online information for others. But when Damon brings her code that might give them a clue as to the whereabouts of her missing older brother, all bets are off as she tries to crack it.
I gave my geeky genius girl extreme social awkwardness. I isolated her and Seb on a tropical island and gave Seb good reason to keep his distance. I had Poppy ask if she could practice her flirting skills on him seeing as he was so clearly well-versed in the art of seduction. And then I set about bathing the story in unresolved sexual tension.
Poppy and Seb's story won the Australian Romance Readers Association's award for Favourite Short Category Romance for 2012. I guess all the simmering worked.
Other Editions
Cracking The Dating Code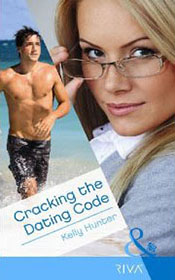 Cracking The Dating Code