Back in April 2014, I had the pleasure of releasing a Montana Born Bride story for Tule Publishing Group. The story was called What A Bride Wants, the cover made me whimper with delight, and I fell in love with the small town community of Marietta (loosely based on Livingston, MT) and all the clever & talented authors who wrote with me into that world. I enjoyed the experience so much that when a Montana Born Bachelors series got floated, I was keen to get on board. Bouncing, panting puppy keen!
I took a character from that first story – waitress and single mom, Mardie Griffin – and prepared to give her a bachelor. Mardie had a one-year-old daughter and was no stranger to hardship. She was hardworking and driven. I liked her a lot. Enough to write about her.
And then the challenges started.
Had I ever written a single mother with a small child into a story before? No. And believe me, the decision to do so had a huge impact on story tone and focus. Smexy, flirty plans for a hot handyman hookup went to war with story interactions that were softer and more patient than my usual. Mardie had a child who was wholly dependent on her, a child she made sacrifices for, a life to rebuild. I decided that hurtling headlong into romance wasn't Mardie's style. Mardie had other priorities.
And then there was the domestic abuse element in Mardie's backstory – an element I had introduced for her character in What A Bride Wants. Had I ever incorporated a background of domestic abuse into a story before? Not for a main character, no. And it's a tough subject to approach, no matter what else you choose to write about. There's no correct or easy recovery plan for domestic abuse. People heal. Slow or fast. Lives get rebuilt. Behaviours get questioned. There's this notion of victimhood that sits there like a shroud. More questions arise. How did I become such a victim? Am I still one? Where do I go from here and who can I trust? Can I trust myself? And there are no easy answers. I tried to answer some of those questions for Mardie as I built her on the page. Trying to figure out what Mardie's behaviours said about her was some of the most challenging writing I've ever done. There were many drafts. There was wine. There was much cursing as I tried to reconcile my vision for a fun and flirty handyman romance with what was happening deep down in the land of subtext. Did I manage to mix a fun & flirty surface story with a deeper layer of self-awareness, patience, kindness and respect? I hope so.
This is a quiet story and I make no apology for it. I hope you like it. It's one I really wanted to write, and all thanks to Tule for the opportunity.
NetGALLEY praise for What A Bachelor Needs
"Kelly Hunter pulls out all the stops in this highly enjoyable, insightful, and funny look at self-sacrifice and romantic entanglement."
"Sometimes what you need is someone to tell you and show you that you matter. This really is a beautifully written novella on so many levels. Ms. Hunter delves into some very hard topics – domestic abuse, pride, working-class challenges. She does a great job in balancing the romance with the rest of life's complicated aspects."
"This story reminds us that love can be expressed in other ways too-patience, kindness, respect, and thoughtfulness."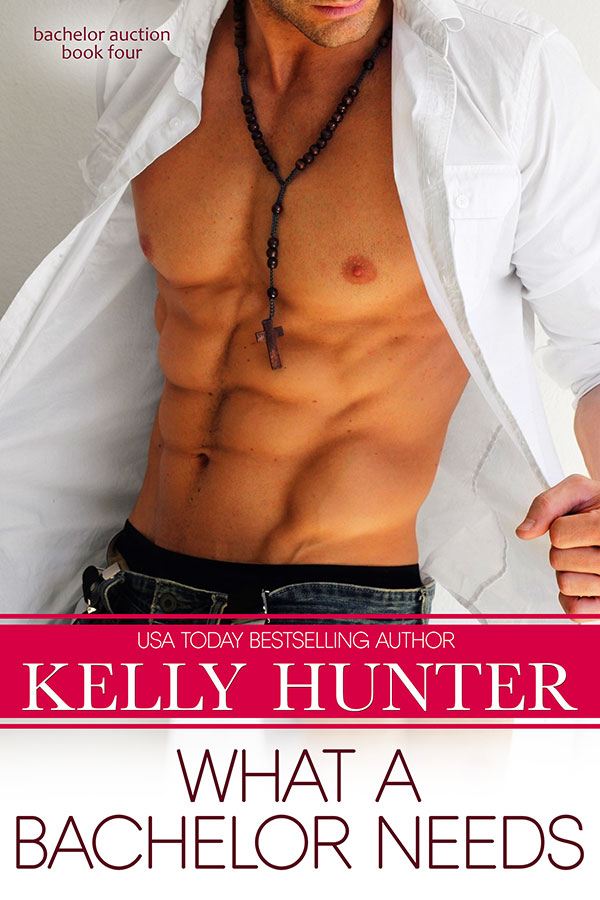 What a Bachelor Needs
Your date with ski champ Jett Casey is an either/or deal. He'll take you off-piste for the ultimate Montana ski adventure or he'll put his handyman skills at your disposal for a week.
Single mom Mardie Griffin has a run-down old house in need of fixing and a memory of Jett Casey as her savior in a time of great need. So when her friends acquire Jett's services at a bachelor auction and send him to fix up her house, she sets aside her mistrust of men and lets him in.
Elite athlete Jett Casey has the world at his feet and no desire for stability. But there's one woman he's never forgotten and if he can help make her safe this time, maybe she'll stop haunting him.
No strings, no sex, no commitment. Just fix things. Surely it can't be that difficult…
Buy from (and if I haven't linked to them yet, I'll do so as the links go live):
Amazon US/Amazon UK/Amazon Aus/B&N/iBooks/Kobo